Do you want to start your own Home Health Business or get your existing Home Health Care Business Medicare Accredited?
Open a Home Health Care Agency today, WE WILL get you Accredited to bill Medicare and Private Insurance Companies. All of our clients receive FREE lifetime Home Health Care Training! Already own a Home Health Care Business? We will get you Private Duty or Medicare Accredited.
Start a Home Health Care Business with our Startup Program
We offer a Turnkey Home Health Care Business Startup Program. We will get you Incorporated, obtain your Tax ID Number, NPI Number, GUARANTEE that we will get you your state Home Health Care Business license, complete your CMS 855A Medicare Application, and much, much more.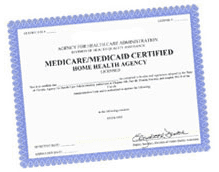 We will walk you through the entire Medicare Accreditation process and complete all necessary forms and documents required for Medicare Accreditation. We will even come to your site and conduct a mock Medicare Accreditation Audit to assure you are ready when the Accrediting Body (CHAP, JCAHO, ACHC) arrives to conduct the true site audit! Providing customized, state-specific policies and procedures as well as all required admission forms and human resource documents, our Home Health Business offering is completely turnkey.
If you're not sure if you want to start a Home Health Care Business or a Home Care Business, read our blog that explains the differences.
Our home health care business startup program will assure that your home health care business has everything it needs to be a successful, compliant home health care agency that is a force to be reckoned with.
FREE live training for home health care business
We provide you and your employees with FREE live training 4 times a year.
Our Home Health Care Training Seminars are intense 4-day events that will allow you to network with other Home Health Care Agencies and prepare you for almost anything.
We cover all bases. Call us today at 888-850-6932 or complete the form on this page.