home infusion therapy programs
Home Infusion Therapy Training Programs

Until the 1980s, home infusion therapy programs were unavailable. Patients receiving infusion therapy had to remain in an inpatient setting and unable to receive home infusion therapy services.
Health care has become very focused on cost-containment in health care resulting in strategies to foster the administration of infusion therapy in alternate settings.
Today approximately 90% or more of all hospitalized patients receive some form of infusion services. 55% of these patients will continue receiving home infusion therapy services.
For individuals requiring long-term therapy, inpatient care is not only tremendously expensive but also prevents the individual from resuming normal lifestyle and work activities.
No longer confined to the hospital setting, infusion therapies are now delivered in alternative care sites such as the home, skilled nursing facilities, and physician offices.
Patients may shorten or avoid stays in institutions such as hospitals and nursing homes when their infusion therapy can be provided in alternate-site settings including their homes and ambulatory infusion centers.
We provide the most comprehensive home infusion therapy programs and training available in the industry.
To find out more about our infusion therapy training program you can view any of the areas listed below.
Policies and Procedures based on the latest INS standards (2011)
To ensure compliance with state and accreditation standards and your agency be recognized as one that provides quality infusion services, you must have policies and procedures that reflect current best practices in regard to infusion therapy.
21st Century has policies and procedures based on current INS standards. The manual includes chapters regarding Home Infusion Standards, Procedures for Home Infusion, Parenteral Pain Management, Administration of Inotropic Therapy, Total Parenteral Nutrition, Anti-Microbial Administration, Vascular Access Devices, Pediatric Infusion Therapy and Competency Evaluation Program.
Infusion Therapy Training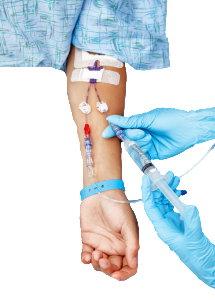 Infusion Nurse Competency Checklists
Nursing involvement in the practice of infusion therapy has become a highly specialized practice.
During the last 60 years, the role of the nurse in infusion therapy has evolved tremendously.
Clinical expertise is of utmost importance. The gold standard, or best practices, for infusion therapy care follows the Intravenous Nurse Society Standards also referred to as INS.
Infusion nurses are key members of the patient's infusion care team and work closely in coordination of care plans and other activities with the infusion pharmacy.
When infusion therapy is provided in a patient's home, the infusion nurse will ensure proper patient education and training and monitor the care of the patient in the home.
The agency selects staff based on education, experience and specialized training in accordance with the job description.
The agency must ensure specialty training and validate competency of staff that will be performing infusion therapy.
When you purchase policies and procedures you receive screening and competency tools to assist you to make the best staff selection to implement your infusion program.
During the Infusion training seminar, our experienced infusion Registered Nurses will validate competency of the attendees through demonstration of various infusion skills. Each attendee will receive a validated skills competency checklist for their personnel file.
Developing and Marketing a Infusion Therapy Program
Most commercial health plans recognize home infusion therapy as a medical service, reimbursed under their medical benefit (rather than the prescription drug benefit) and paid for using a per diem for clinical services, supplies, and equipment with separate payments for the drugs and nursing visits.
Most payers require that the infusion pharmacies and the nursing agencies be accredited by a nationally recognized accreditation organizations (i.e., ACHC, CHAP or JCAHO).
Home nursing visits required for patients receiving infusion therapy, reimbursement under Medicare Part A coverage included in Medicare's home health benefit applies if the patient is serviced by a Medicare-certified home health agency, as well as considered to be homebound and in need of intermittent (not 24 hour) home nursing.
When you purchase the Infusion Program from 21st Century Health Care Consultants, we provide you with the elements required to meet or exceed these requirements.
Elements to assist you in the development of a profitable Infusion program that includes:
Market analysis
Reimbursement rates
Marketing tips
Staff selection
Identifying and completing payer contracts